The application deadline for this role has now passed

Derby RFC Forwards Coach
Derby RFC
Closing date: 30th June 2023
𝑫𝒆𝒓𝒃𝒚 𝑹𝑭𝑪 𝑭𝒐𝒓𝒘𝒂𝒓𝒅𝒔 𝑪𝒐𝒂𝒄𝒉 – 𝑪𝒐𝒍𝒕𝒔, 𝑱𝒖𝒏𝒊𝒐𝒓𝒔, 𝒂𝒏𝒅 𝑺𝒆𝒏𝒊𝒐𝒓'𝒔 𝒂𝒔𝒔𝒊𝒔𝒕𝒂𝒏𝒕.
We are creating a 𝗻𝗲𝘄 𝗽𝗼𝘀𝗶𝘁𝗶𝗼𝗻 within the club as a '𝗳𝗼𝗿𝘄𝗮𝗿𝗱𝘀 𝗰𝗼𝗮𝗰𝗵'. This role will be focused on the development of our colts and older junior players leading them into Senior level rugby. You will work with our senior coaches and coaches from Derby College Rugby Department as part of our new relationship as they enter the national college league structure.
𝘞𝘦 𝘸𝘰𝘶𝘭𝘥 𝘢𝘯𝘵𝘪𝘤𝘪𝘱𝘢𝘵𝘦 𝘵𝘩𝘢𝘵 𝘵𝘩𝘦 𝘴𝘶𝘤𝘤𝘦𝘴𝘴𝘧𝘶𝘭 𝘤𝘢𝘯𝘥𝘪𝘥𝘢𝘵𝘦 𝘸𝘪𝘭𝘭 𝘩𝘢𝘷𝘦 𝘢 𝘮𝘪𝘯𝘪𝘮𝘶𝘮 𝘙𝘶𝘨𝘣𝘺 𝘤𝘰𝘢𝘤𝘩𝘪𝘯𝘨 𝘢𝘸𝘢𝘳𝘥 [𝘰𝘭𝘥 𝘭𝘦𝘷𝘦𝘭 2] 𝘲𝘶𝘢𝘭𝘪𝘧𝘪𝘤𝘢𝘵𝘪𝘰𝘯 𝘢𝘯𝘥 𝘣𝘦 𝘢𝘷𝘢𝘪𝘭𝘢𝘣𝘭𝘦 𝘧𝘰𝘳 𝘵𝘩𝘦 𝘢𝘭𝘭𝘰𝘤𝘢𝘵𝘦𝘥 2 𝘵𝘳𝘢𝘪𝘯𝘪𝘯𝘨 𝘯𝘪𝘨𝘩𝘵𝘴 𝘱𝘦𝘳 𝘸𝘦𝘦𝘬.
All expenses will be covered within this role with further remuneration for the right candidate. Any further coaching qualifications the successful candidate wants, or needs will be encouraged and supported by the club.
If you would like to be considered for this opportunity or would like to know more information, please forward a CV to Rodger Mather on [email protected] or Mike Hawkes [email protected]. Alternatively feel free to phone to discuss the position with Rodger Mather on 𝟬𝟳𝟳𝟭𝟵𝟳𝟬𝟴𝟳𝟵𝟱.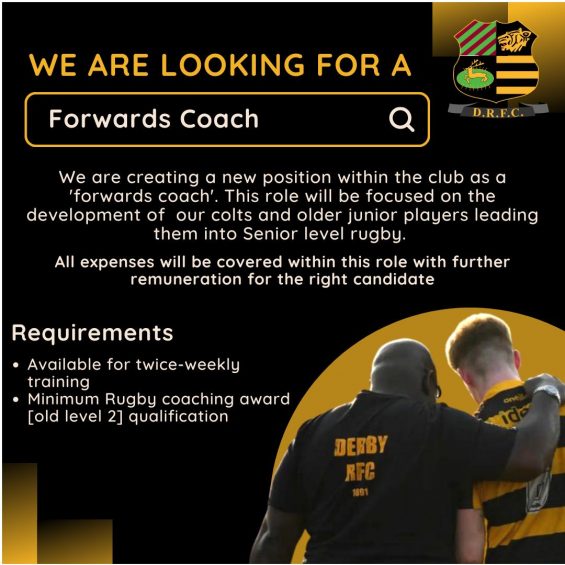 Return to vacancies