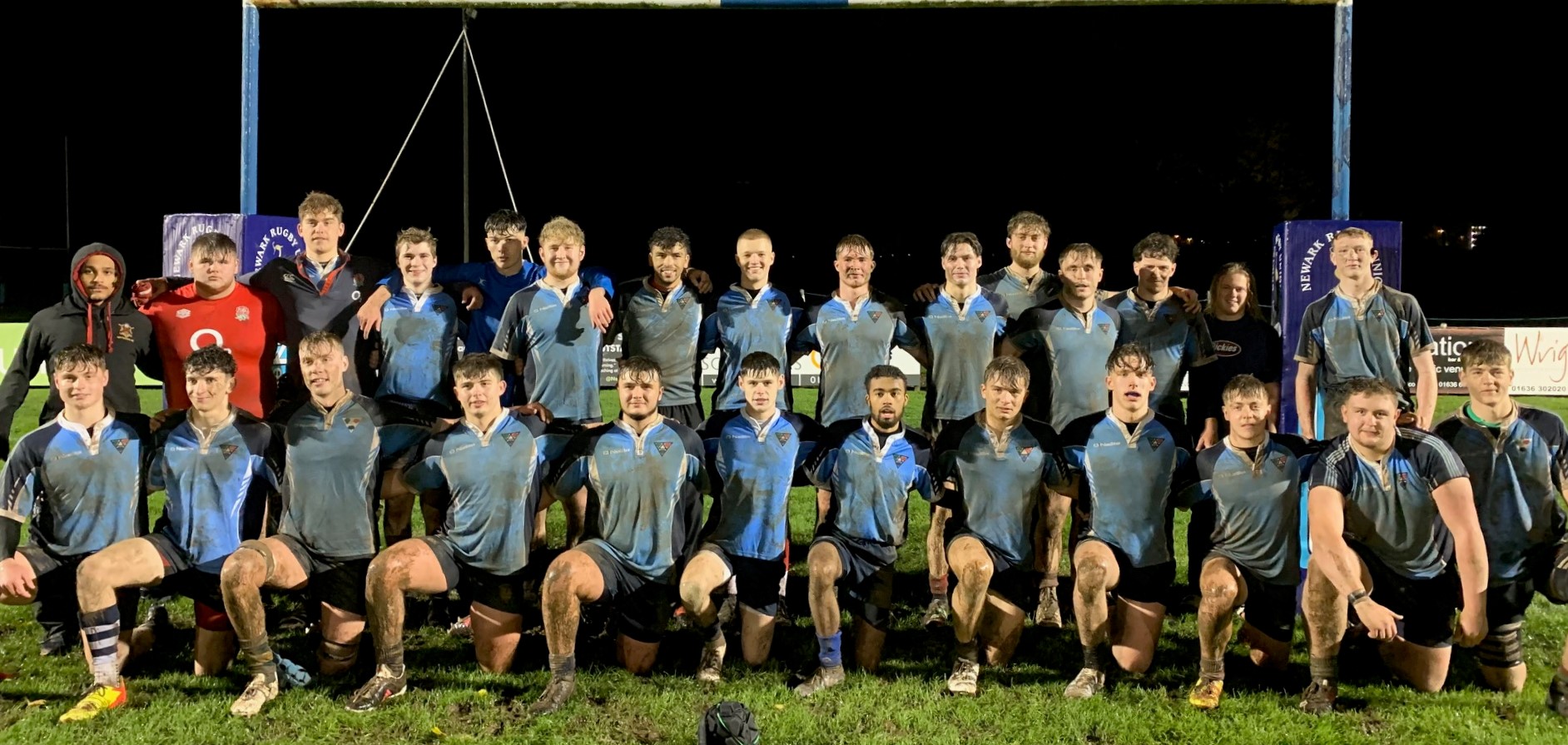 NLD U18s
The NLD U18s play in the Midlands round robin fixture pool, giving players the opportunity to be selected for Midlands Counties.
The squad is managed by Adrian Taylor, who also manages the NLD U17s squad thus ensuring continuity as players progress.
Head Coach is Chris Conroy from Scunthorpe RFC – he has worked at NLD U16s previously and is part of the Tigers DPP program.
Forward Coach is Dan Coen from Newark RFC – also part of the DPP program and has coached at various levels for Club and NLD.
Backs Coach is Peter Haskell from Mansfield RFC – also part of the DPP program and has coached at various levels for Club and NLD.
If any other coaches want to come along and help at our sessions as part of their personal development, please contact Adrian for dates and venues.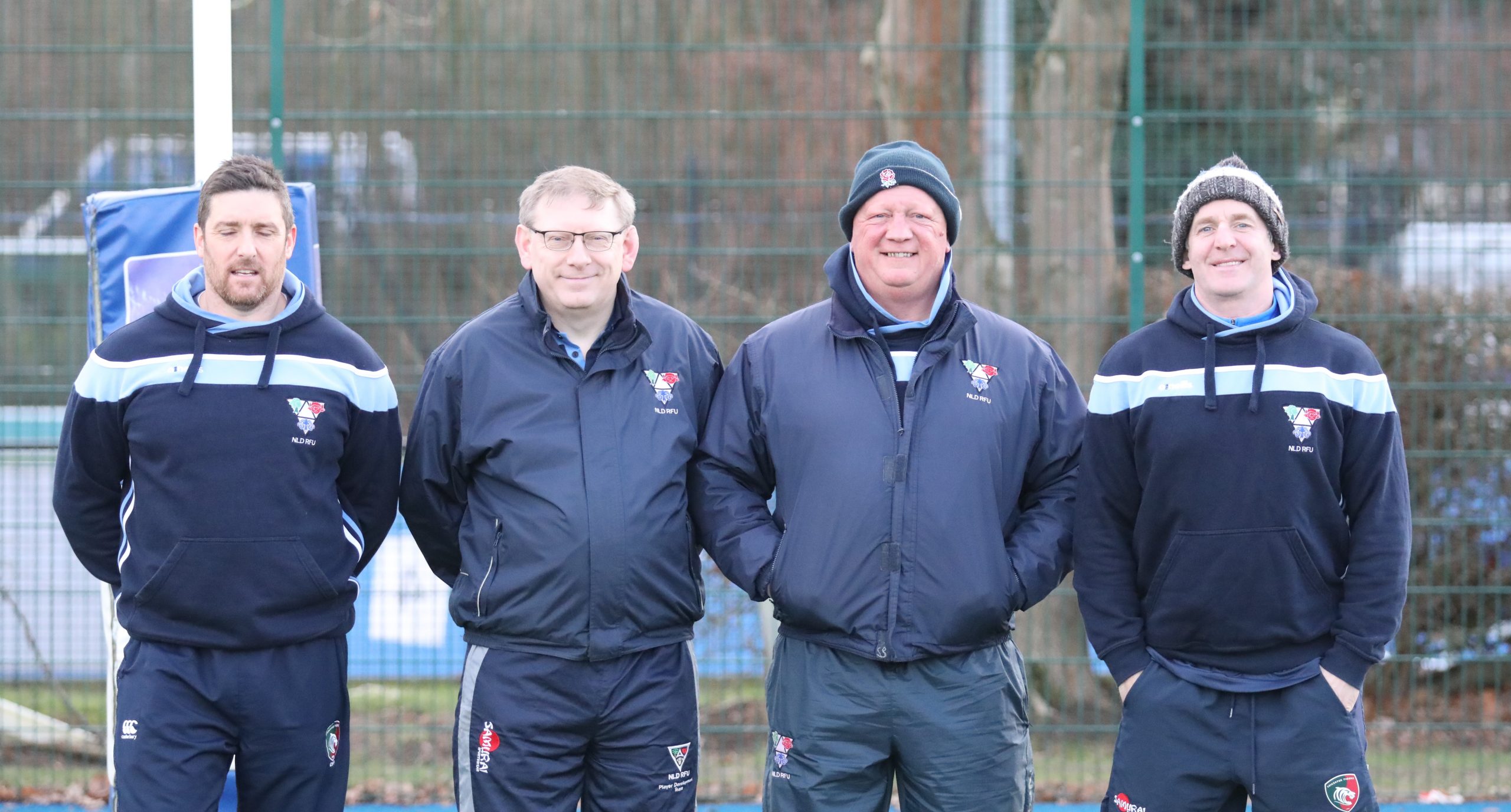 Left to right: Peter Haskell, Adrian Taylor, Chris Conroy, Dan Coen
NLD U18 Squad
The U18s squad for the 2022/23 season is as follows:

For more information about the U18s squad, including coaching opportunities, please contact Adrian Taylor – [email protected]
Fixtures 2022/23
21st Nov – Warm up match v Brooksby College U18s
4th Dec – Midlands pool fixture
18th Dec – Midlands pool fixture
8th Jan  – Midlands pool fixture
Match Reports
Midlands Pool
8th January 2023
NLD U18s
45 ‐ 8
Staffordshire U18s
NLD U18s final Midlands Counties game saw them playing Staffordshire at Warwick School and they certainly left the best until last.
Staffordshire won the toss and elected to play with a strong wind at their backs with lots of kicks into the NLD territory which allowed the blues to show the improvement in defence and discipline with no scores up to the 30th Minute when Staffordshire took a penalty for a 3 point advantage.
From the kick off Will Burrows outjumped the defence to retain the ball and good forward and back interplay saw Bailey Mayo break through the line to score the opening try converted by Oliver McMahon to give NLD a lead at half time playing against a strong wind.
HT: NLD 7 Staffordshire 3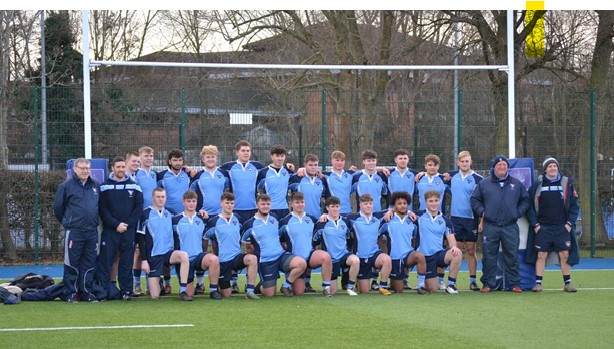 NLD U18s Squad vs Staffordshire 08-Jan-2023
A poor kick by Staffordshire allowed NLD to get deep into opposition territory and great control at the lineout by the forwards saw Rohan Gates score try from the driving maul 12-3
Further Staffs infringements allowed NLD back into the red zone and good interplay with forwards and backs recycling the phases saw Danny Green draw in the final defenders to put Didier Taylor in the corner to score with Oliver McMahon adding the extras 19-3
A high tackle saw NLD get another lineout 5 metres out and again a driving maul from NLD saw Rohan Gates get his second try with Oliver adding the conversion 26-3
From the kick off James Cooper Price broke the defensive line ably supported by Daniel Longden taking NLD into the 22 and quick recycling saw the ball out to Didier Taylor who showed his pace and footwork to score his second try. 31-3
A quick penalty saw Andrew Charlish break into Staffordshires half and pop to the ever supporting Daniel Longden who showed his back row pace to run in from 40 metres to score with Oliver getting the extra two point. 38-3
Staffordshire came back into the blues half and managed to score a consolation try with 10 minutes remaining 38-8
Not to finish on a low point NLD then put further pressure on Staffordshire and forced infringements the NLD boys tapped the ball out to Daniel Longden to crash over close to the posts with Oliver converting for the final score of the game
FT: NLD 45 Staffordshire 8
The final NLD county game for these boys at U18 in decent weather saw what these lads had achieved over the two year period from U17 & U18 finishing with a flourish.
Hopefully a number of these players will advance to Midlands U18 and we wish those that do all the best and thank all of the players and their parents for the commitment and efforts this season.
Midlands Pool
18th December 2022
NLD U18s
21 ‐ 24
East Midlands U18s
NLD U18s second Midlands Counties game saw them playing East Midlands at Warwick School in what can only be described as atrocious weather with freezing temperatures and driving rain that even saw the referee wearing his woolly hat.
A close first 16 minutes with mistakes by both sides was eventually broken when following numerous penalties East Mids centre broke through on the blind side for the opening try and a 5 point advantage.
NLD pushed forward but with advantage missed East Midlands relieved the pressure from the NLD boys until Andrew Charlish stole the ball in a ruck and quick hands saw Ovi Gilder score with Oliver McMahon converting to give NLD the lead by 2 points
East Mids again pushed forward with NLD defending stoutly but further penalties in critical areas saw East Mids regain the lead just before half time with a converted try.
HT: NLD 7 East Midlands 12
The second half started well for NLD camped in the East Mids half and a chip and chase by Joe Acton almost brought a try but for a knock on when challenged by the defender.
East Mids fought back and a clearance kick collected by the Mids full back saw him break through several tackles before getting stopped just short of the line but quick recycling saw East Mids extend their lead with a converted try. 19-7
NLD pushed forward and a tap penalty and quick recycling on the blind saw Ovi Gilder touch down for his second try and Oliver McMahon against the elements from the touchline added the extras. 19-14
NLD now 5 points behind found increased energy breaking from their own half and forcing East Mids back in mauls which and from a strong scrum and recycled ball saw Joe Lucas pop the ball into the oncoming Will Burrows to score and level the points before Oliver McMahon added the extras to give NLD a two point lead going into the last four minutes of the game.
Poor handling and some interesting calls saw East Mids regain the ball in NLD red zone from the kick off which saw them get the final try of the game out wide.
FT – NLD 21 East Midlands 24
Midlands Pool
4th December 2022
NLD U18s
28 ‐ 40
Leicestershire U18s
NLD U18s travelled to Warwick School for this year's opening counties game for an early 10am kick off against Leicestershire.
With disruption to players arrival the first half didn't start well with Leicestershire opening the scoring in the first 3 minutes with a converted try.  NLD came back into it and good back play opened up space for Will Burrows to dive over with Oliver McMahon adding the extras. 7-7
Leicestershire came back with NLD errors giving lots of possession away and two more converted tries leaving NLD down 21-7 after17 mins
As the half drew to a close good pressure saw Leicestershire penalised and quick play saw a loose ball picked up by Ovi Gilder who danced his way under the posts. 21-14
Further penalties saw Leicestershire score again to finish the half.
HT: NLD 14 Leicestershire 28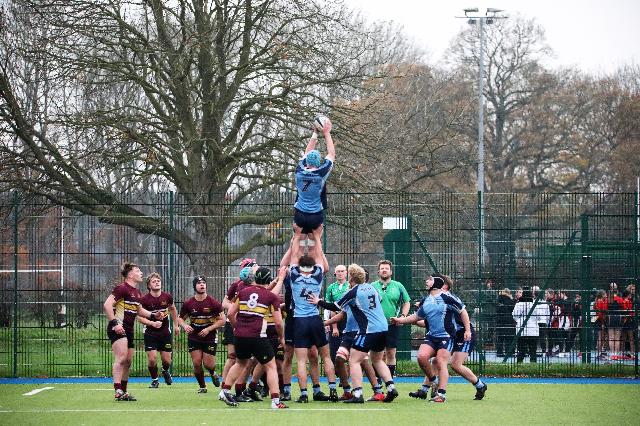 The second half was a tight game for the first 15mins with both sides defences on top but good spacial awareness by Sam Gilbert saw him exploit gaps on the blind to score with Oliver McMahon adding the extra two points. 28-21
Leicestershire added further pressure from an NLD handling error and after several close range attacks managed to extend their lead 35-21
Further penalties against NLD saw Leicestershire score from a driving maul to extend their lead to 40-21
NLD had the last word though with Daniel Longden hitting a hard line of a quick ruck to break through for the final try of the day with Oliver adding the conversion.
FT: NLD 28 Leicestershire 40
"A much improved second half by NLD" was the message from the coaches to take onto the next game
Friendly
21st November 2022
NLD U18s
40 ‐ 14
Brooksby College
NLD Male U18s had their first fixture on Monday evening, 21 November, against Brooksby College at Newark RFC.
NLD started very strongly on a very wet evening and on a night not fit for running rugby used their driving maul to set up at least half of the tries scored.  The lads showed great handing skills as well, with the backs moving the ball cleanly and some great catching of high balls under the lights – this all bodes well for their first Midlands match.
Final score NLD 40  – Brooksby College 14
Thank you to Newark for hosting us.
2022/23 Gallery