Nottinghamshire Schools
This page is dedicated to information related to schools' rugby in Nottinghamshire.
For more information or queries relating to Derbyshire schools rugby, please contact Gurpej Landa
Schools Rugby X Competition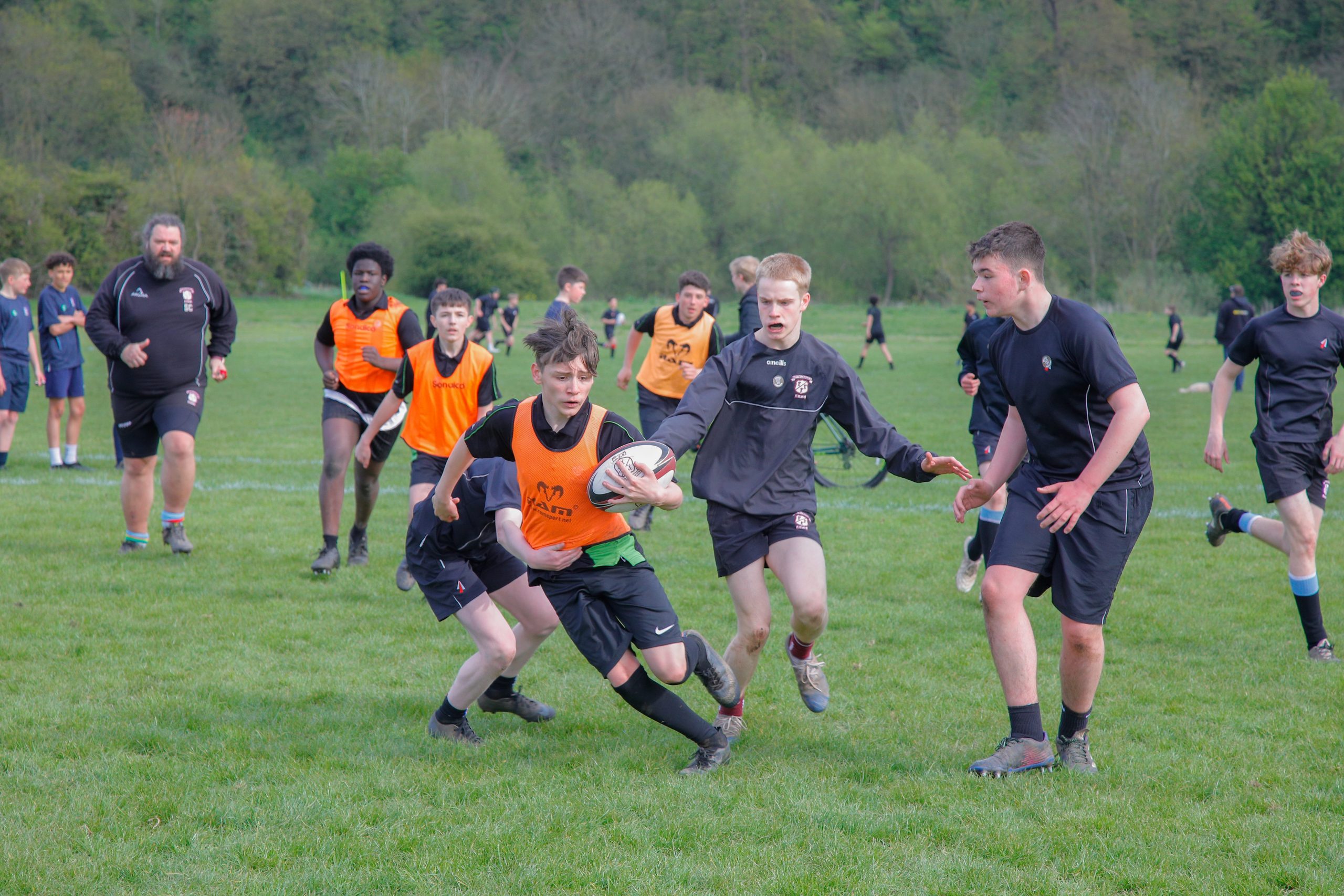 On Weds 25 April, Nottingham Causals held an end-of-season Rugby X Competition for local schools.  Organiser, Miles Hallam, describes the background and structure of the event, which could well be used as a template by other clubs:
In 2021-22, the club's coaches embarked on a program going into secondary schools offering after-school rugby taster sessions to years 7 -10.  This was meant as a recruitment drive and to link and forge a relationship between local schools and the rugby club.
This season, our competition attracted almost 200 school children from 5 local comprehensives in the Broxtowe and Inner City areas, again by starting with taster sessions at local schools, but also including some primaries Year 5 & 6.
On the day of the competition, each team had already chosen their team name from a registration form sent to their school prior to arrival so, for example, when the schools checked in at our front desk each individual received a printed sticker with their team name on it such as Sharks or Braves etc and were directed to their allocated pitch.  Each pitch displayed a white board with the fixture list of the teams on it in order of play.
The format was based on  Rugby's  5-a-side indoor competition devised by Ben Ryan in 2019 and approved by World Rugby.  We decided to opt for these low team numbers to help  pupils interested in raising a team without having to rely on large numbers turning out and maximum school participation particularly girls who struggle to get numbers to form teams.
We used 12 referees over 12 quarter pitches.
The matches were 7 minutes straight-through and each pitch had a maximum of 6 games on it, started and finished with a claxon, to keep matches on time.  In total 72 games of rugby were played over an hour and a half!   This culminated in some 1 v 1 duels where each school year nominated a player to challenge the opposing school opponent in an attacking and defender-based chase for the try line.
During the 72 matches, referees collected names of any teams or individuals showing good TREDS; these 5 bonus points were allocated to their school during the afternoon with the winning school receiving a bag of 6 balls for their PE department.
Overall we gave away £200 worth of rugby balls to the local schools with the remaining balls being won in bags of 4  to the winners of the duels at the end so approximately 40 rugby balls were distributed to local school PE departments.
The competition promoted health and well-being and we had a fruit stall available with £100 worth of fruit donated by our local sponsor.
The boys and girls thoroughly enjoyed the afternoon and were fully engaged right to the end.
First aid reported a few light knocks and no serious injuries thank goodness – we have found a 5 side format to prove low impact and ideal for beginners.
A 3 player uncontested scrum, quick throw ins and a  1 v 1 ruck only situation helped keep the matches to flow and encouraged  lots passing and the main principles of play being #GO FORWARD in #SUPPORT.