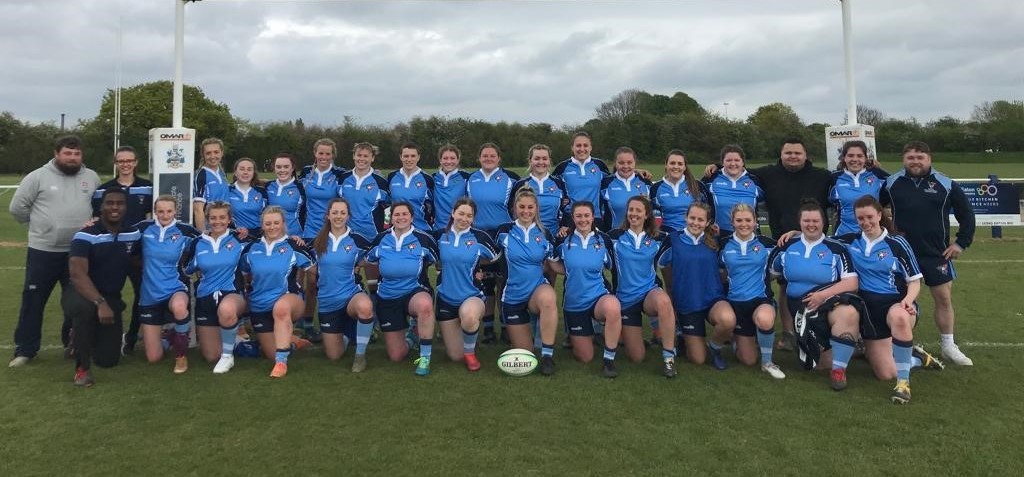 2021-22 NLD Women
The 2021-22 NLD Women's Squad has been one of our most successful Representative squads ever.  We have had the largest number of players attend trials representing the largest number of clubs across NLD.  We have also had more "buy-in" from the NLD Universities this season and we have gone the farthest in any Senior County competition.
Female rugby within NLD has grown considerably over the last few years, which has been a pleasure to see. We have more Female players and more clubs offering Female rugby across all age groups than ever before. Not only has player numbers increased but the standard of rugby across all our teams is increasing exponentially which became truly evident with the NLD Women making it all the way to the Gill Burns Cup National Finals in London in May, after being undefeated in the pool stage.
After a challenging start to the season and a competitive warm up game against the Gill Burns B Cup Div 1 winners, Leicestershire, NLD finished up topping the div 3 pool, going undefeated to Cumbria and Staffordshire, and for the first time in the GB Cup's history, NLD were in the finals.  Our div 3 final was played at Richmond Athletic Ground where NLD came up against Cornwall.
Sadly, despite a strong start scoring first, the final result didn't go our way with Cornwall taking the win 36-17.  We couldn't, however, have been prouder of the team, captained by Hannah Dennis, as they battled all the way to the final whistle putting Cornwall under pressure across the field as well as dominating in the scrum throughout.
The women received their runners-up medals at Twickenham with the post-match dinner speeches where Hannah, (NLD Captain) stepped up again to thank Cornwall and all the players who have taken part in this season's programme.  NLD Hon President Dave Andrews also made a short speech, having taken a "short, 4hr detour" on his way home from a holiday in Devon to support us.
Although the result wasn't ultimately a win, this has been a very successful season for NLD Women's rugby.  Both players and coaches have thoroughly enjoyed the experience and are looking forward to 2022-23 season.  We are expecting renewed interest in CB rugby on the back of this season's cup run and have firm ambitions to go one step further in 2022-23.
You can find all the photos from the match on our Facebook page here.
Finally there are a few thanks we need to make.
To NLD/RFU, Chris Brookes, who helped organise us on the day.
To Long Eaton RUFC, and Chris Brookes, for hosting us over the course of the season at training and hosting the "friendly" match against Leicestershire.
To NLD for providing the additional funding for coach travel and accommodation in Richmond.
To Dan Edson and his coaching team, (Jed Chapple, Paul Beard, Pierre Byworth, Ben Edeh and Connor Power), who provided the leadership, knowledge and skills that took us to the final's and our own physio Amy Waghorn, who kept our players in good repair all season, (broken nose within first 5 mins of the first training session!!).
To Sarah Driver, Team Manager/player who worked so diligently and meticulously throughout the season and ensured she was there, in London, despite being on holiday and traveling back on the day, (from Spain), to take part, a 3am start to a long day!!
To ALL the clubs within NLD that support Female rugby, in all age groups. Without the work you do at club level the Women's CB programme wouldn't be what it is with so many talented women coming to trial, and being part the training/playing squad.
To ALL the players who attended trials/took part in the wider training and playing squad:
| | |
| --- | --- |
| Abigail Lee | Lincoln |
| Alexandra Clinkard | Lichfield |
| | |
| Annette Zhao | West Bridgford |
| Aoife Magee | Nottingham Trent University |
| Becca Humphreys | West Bridgford |
| Cassie Milestone | Scunthorpe |
| Charlotte Lacy | Lichfield/Leeds University |
| Ella Johnson | University of Nottingham |
| Ellie Gisbourne | University of Nottingham |
| Ellie Jardine | University of Nottingham |
| Emily Gallivan | West Bridgford |
| Emily Waldron | University of Nottingham |
| Etilly Pigg | Nottingham Trent University |
| Georgina Tomlinson | Lincoln |
| Hannah Dennis | Stamford |
| Hannah Vandersluis | West Bridgford |
| Harriet Fluck | Lincoln |
| Holly Felton | Ashfield |
| Ivy Stevens | Mansfield |
| Jenna Bierton | Lincoln |
| Jess Pearce | Stamford |
| Joanna Moorhouse | University of Lincoln |
| Lauren Smith | Mellish |
| Leanne Reeves | Ashfield |
| Lycia Elston | Boston |
| Matilda Coe | Derby |
| Natasha Champion | Boston |
| Natasha Duggan | University of Nottingham |
| Olivia Chantrey | West Bridgford |
| Paige Baker | West Bridgford |
| Paige Donnelly | Hull Ionians |
| Poppy Lacey | Nottingham Trent University |
| Rhianna Burke | University of Nottingham |
| Rosie Dance | Nottingham Trent University |
| Ruby Barnes | University of Nottingham |
| Sarah Driver | West Bridgford |
| Seren Pepperall | Nottingham Trent University |
| Sydney Monkhouse | Long Eaton/ University of Nottingham |
| Tayla Ihlenfeldt | Nottingham Trent University |
(apologies if I have missed anyone out)
We hope that the success of this season inspires women to come and trial for NLD no matter what level they play at or past experience. We want playing for your NLD side to mean something personal to you and to be aspirational, not just for the Women, but also for the girls progressing through their age grades.
We will once again be contesting the GB Cup playing in div 3 next season and plan to build on last season success with more training and collaboration across the 3 counties. We are looking forward to what 2022/23 season hold for the NLD women's team, you can get all the updates about the season as it progresses on our Facebook Page here.