12th June 2023
Boston's Mini Fundraiser
Boston Rugby Club Under 9 player, Isaac Faulkner-Rose, has been raising money for Cancer Research in order to help other Mummies and Daddies who are undergoing treatment for Cancer.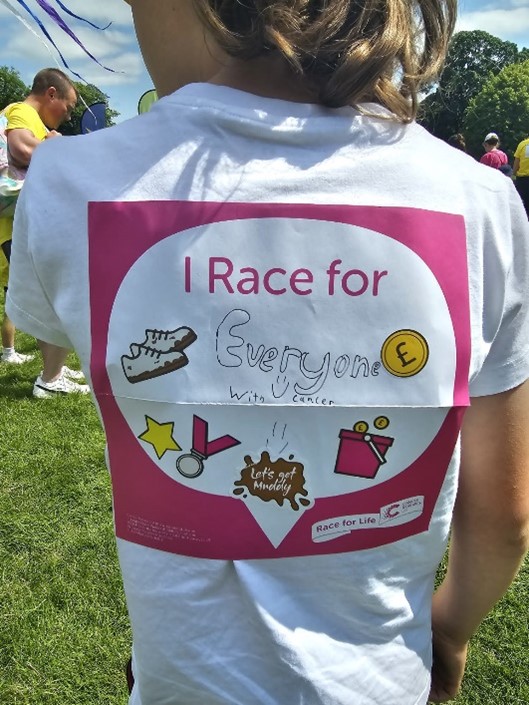 Isaac's Mum, Emily, was diagnosed with a very rare form of soft tissue cancer called sarcoma in November of 2018 and underwent two big operations to remove the cancer, followed by 6 weeks of radiotherapy.
Emily says, 'Isaac was only 3 at the time of my diagnosis, however he can still remember me having to go for the surgeries and not being able to walk for long periods of time after each surgery. We were very lucky that I was looked after by an amazing team at Addenbrooke's during my radiotherapy.
'Isaac used to come with me and my mum on some days when I was having treatment, and the staff were able to show him the machines they used for the treatment and my radiotherapy boot that was used during my treatment. They reassured him that they weren't hurting me, and this was all part of making Mummy better.
'Cancer has been an almost constant in our lives over the last five years, as I have regular scans to check for any spread or recurrence. However, luckily these scans have all been clear and this August I am hoping to get the news that I will be 5 years cancer free!!'
Isaac's Mum continues, 'As cancer is something that has directly impacted us as a family, and many people that we know, the importance of the research that Cancer Research UK do is known all too well to us.
'Isaac saw an advert on TV about Race for Life and raising money for Cancer Research UK (CRUK) and immediately said it was something he wanted to join in with.
'He said that he wanted other people's mums and dads to be able to get better like I was."
'He set off with a goal of raising £50 as in his fundraising pack it said this could be enough to fund two microscopes that can be used to measure the size of tumours and discover how they grow.
'Isaac has gone on to absolutely smash that target by volunteering to compete in a 5k 'Mud Run' and has so far raised £230! He's been fortunate enough to receive several donations from members of the rugby club, and he was so thankful to these people for their kind words and donations. I feel this shows just what an amazing community we have at BRFC and in the sport of rugby as a whole.'
Isaac's Mum and Dad are so incredibly proud of their amazing son, and as a club, Boston RFC are so impressed, humbled and proud of what this inspirational young man has achieved so far, they want to help celebrate Isaac's success and push out his campaign to a wider audience.
Please help Isaac raise £1000, by donating at the following link:
https://gbr01.safelinks.protection.outlook.com/?url=https%3A%2F%2Ffundraise.cancerresearchuk.org%2Fpage%2Femilys-race-for-life-1407327379&data=05%7C01%7Cshaun.turl957%40mod.gov.uk%7C6ade73bce16b4629729c08db68117dd7%7Cbe7760ed5953484bae95d0a16dfa09e5%7C0%7C0%7C638218196545793969%7CUnknown%7CTWFpbGZsb3d8eyJWIjoiMC4wLjAwMDAiLCJQIjoiV2luMzIiLCJBTiI6Ik1haWwiLCJXVCI6Mn0%3D%7C3000%7C%7C%7C&sdata=wy21lMmcGCdK95xbKvCLTiM1X7iv2QwqUySEk9xnn9o%3D&reserved=0