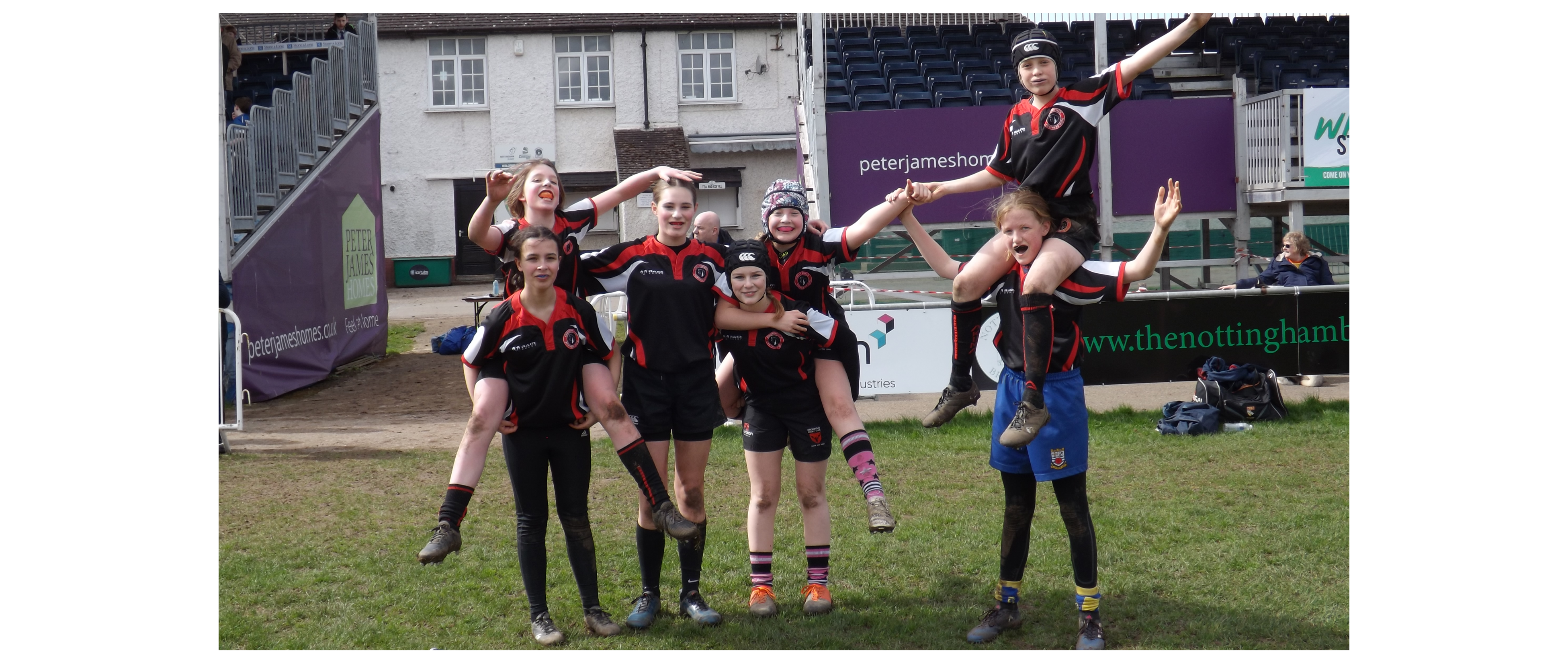 2nd April 2023
NLD Youth Council festival U12 boys' and girls' teams dance with joy
After months of hard work, the NLD Youth Councillors were pleased to present an entertaining rugby festival for U12 boys' and girls' teams at Nottingham Rugby Club on Sunday 2nd April.
It was great to see boys' matches played alongside girls' matches on Nottingham's 1st team pitch on a sunny April afternoon. The standard of play was high and the coaches and parents all entered into the event with a generous spirit that amply displayed rugby's core values of Teamwork, Respect, Enjoyment, Discipline and Sportsmanship.
The Youth Councillors, a group of 11 young volunteers ( aged 16 to 23 ), had targeted U12s for the event as means of supporting U12 teams, where girls operate as a single age group for the first time and recruit new players and boys often recruit players who have started secondary school and are new to the game. The organisers were keen for the girls and boys given equal status which is why the matches were played alongside each other . The Councillors were grateful to the NLD Referee Society for their enthusiastic support and the four referees on the day ensured that all of the players had a great time. All players also had free burgers.
Adding their youthful insight into the proceedings, the Councillors introduced special awards including 'Best Try Celebration' 'Best Teamwork' and 'Best try'. Music was played to accompany each team's on-field try celebrations and at the final presentations, there was a 'dance-off' to see who should win. Fittingly, for an event taking place the week before Easter, all of the prizes were Easter eggs.
It was lovely to see so many people enjoy themselves and the Youth Councillors should be very proud of their efforts on the day. Attending on behalf of the NLD Youth Council were Freya, Ewan, Lucas, Tom, Natasha and Hugh.
The day was also attended by National Youth Council Chair, Kirsten Flower, who has been very supportive of this group. She had been so impressed by their activities that she commissioned the filming of a video of the U12 Festival and conducted interviews with Councillors. She said that the day was an excellent example of youth engagement in rugby and the upholding of rugby's core values. The video will be shared by the National Youth Council and RFU to clubs and other volunteer groups across the game. It will also be shared on the NLDRFU website when it is published.
The NLD Youth Council aim to represent the views of young players, and where they see its needed, help build changes in the way the way the rugby experience is offered. They do this through events such as the U12 Festival and the successful ColtsFest (to be held once again on Saturday 2nd September 2023) and promoting rugby coaching in schools. They also promote their message and canvas opinion from young people via their social media activity and seek to influence the key decisions taken at key NLDRFU committees.
A new round of recruitment for NLD Youth Councillors will take place during the summer and reports of gtheir activities appear on the NLDRFU website at Youth Council – NLDRFU – Nottinghamshire, Lincolnshire & Derbyshire Rugby