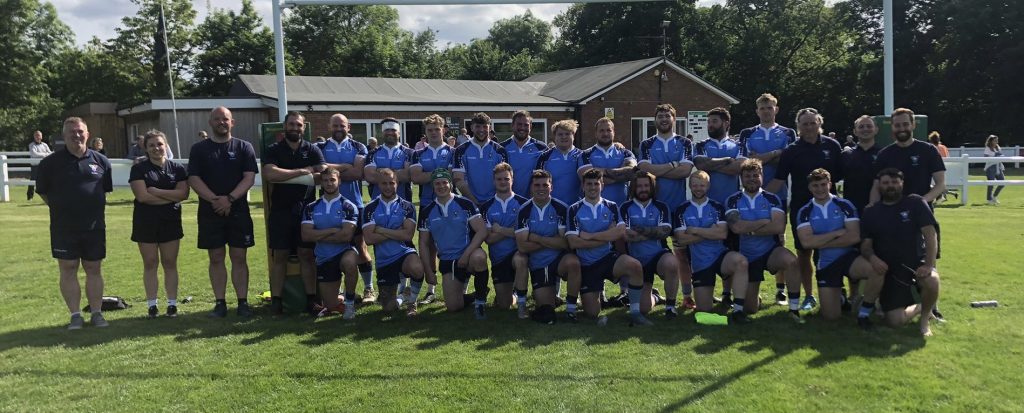 24th June 2022
NLD Seniors Finish Season on a High
NLD's Senior Men traveled to Beaconsfield on a glorious sunny day to play in their final county championship game of the season against Buckinghamshire on Saturday 21st May. Despite the narrow loss at home against Oxfordshire at Lady Bay Nottingham RFC and then a better performance away to North Midlands, the men in blue were eager to still register a win in their campaign.
County Championship
21st May 2022
Standout player Elliot Fisher (Sheffield Tigers RFC) picked up the Captain's armband after Joshua Redfern's (Macclesfield RFC) injury from the first game.
After a delayed start the men in blue quickly set the tone in the opening 5-10 minutes from a poor exit from Bucks receiving the kick off. Jamie Madderns (University of Nottingham RFC) enforced switch to 10 paid dividends early on as NLD dominated territory towards Bucks 22m. The home team settled and started to pressure the middle of the pitch exchanges which led to an NLD mistake then a penalty from the ensuing scrum. This first entry into the half gave the home side some confidence with Bucks' scrum-half getting front foot ball from their strong carrying number 8. NLD soaked up some pressure but was eventually caught offside. Bucks' scrum half quickly tapped and moved the ball well for an unconverted score in the corner.
NLD quickly regained the initiative from another poor Bucks exit; a knock-on into touch. The line out was working well with Adam Mallinson's (Glossop RFC) pinpoint throwing, NLD forwards timing by Joe Fitzsimmons (Sheffield Tigers) and Kurtis Booth (West Bridgeford RFC) who also had a height advantage. From a set move to play to width with the blind side winger Matisse Source (University of Nottingham RFC) interjecting into the line to take three defenders with him over Bucks try line to level the score which was a boost for the away team.
BUT unfortunately, the blue men went quiet for the next 10 minutes conceding another score from Buckinghamshire's unstructured attack from another NLD error.
It was back to task for NLD with strong carrys from number 8 Kieron Wain (Glossop RFC) who galvanised his forwards up the middle of the field for Maddern to exploit the space from the retreating defence then to chip the ball for winger Max Greatwood (University of Nottingham RFC) to score, which was unconverted.
Bucks 12 – 10 NLD
After a bright start, NLDs  Number 6, Tommy Taylor Dawes (Sheffield Tigers RFC), picked up a knock which meant Mallison had to switch from Hooker to back row but still retaining his throwing duties at the lineout. It was with Mallison's freedom from the tight 5 and his footwork that forced a penalty resulting in a 3 point score. NLD lead for the first time, Buckinghamshire's 12-points to NLD's 13 points. The combination with the mercurial Lee Monks (Sheffield Tigers) played out to be an All-Star back row.
Bucks fought hard and stayed in the game despite losing more of the collisions and being overpowered in the scrums by NLD's front row, Sim Meek (Sheffield Tigers RFC), Michael Cade (Stamford RFC), Lochlan Dudly (Paviors RFC) and Ben Whitney (Sheffield RFC). Credit to Bucks as they took points from rare visits into NLD's territory, scoring from a line break with an ambitious offload then one phase out and then finding a miss match to score.
The first half score was Buckinghamshire 17 – 13 NLD, which was slightly disappointing for the visitors. The half time team talk brought a couple of coaching points from Head Coach Nathan Eggleshaw who gave the dressing room back to the blue men to figure out the process to win the game. Being on top with forwards domination at the set piece and Maddern' new pivot role the coaching staff were quietly confident despite recent campaigns.
Now with the wind and a hidden slope in the second half the NLD machine continued to impress and run smoothly.  They were quickly on top of everything and the home team's morale had been worn down within 10 mins of the seconld half. The referee then continued to reward NLD who are firmly on the front foot, with Maddern's exemplary display of kicking moving his forwards into scoring positions. The reverse 50-22 kick when he shaped one way to kick another was a gem, from a true pivot player and a great morale boost for his team. Unfortunately for Buckinghamshire it then became one way traffic and the home team conceded several tries from the well-executed line out catch and drives. Even the backs got in on the act after Bucks' last ditch brave efforts NLDs 15 / Winger Cam Catleugh (Huddersfield RFC) scored a well worked move straight from the training ground playing to width. Winger Matisse got a second for his brace of trys receiving a 25m bridge pass from Maddern. Also, great distribution from the centre's Matty Hale, Dronfield RFCs Captain, who continued on stoically and burly Zac Round (Glossop RFC) giving more threats to Bucks to deal with. Mentions for Rory Pond who had a solid game and a great campaign and competent Winger Tom Bingland (Derby RFC) finishers George Cole (West Bridgeford) and Harry Moore (Glossop RFC)
NLDs blue men got their win  without conceding in the 2nd half and overpowering their opposition running away to a 17 -49 victory.
Head coach Nathan Eggleshaw wrapped up proceedings by thanking all the players and the coaches for their hard work with supporting the county programme. Continuity of selection was key and the players are applauded for making themselves available. The players made the bus ride home even more memorable and looked great in their well earned NLD stash!
 A BIG thank you to our sponsors HGV Direct Parts
NLD SENIOR MENS TEAM
1. Sim Meek (Sheffield Tigers)
2. Adam Mallinsons (Glossop)
3. Michael Cade (Stamford)
4. Joe Fitzsimmons (Sheffield Tigers)
5. Kurtis Booth (West Bridgeford)
6. Tommy Taylor Dawes (Sheffield Tigers)
7. Lee Monks (Sheffield Tigers)
8. Kieron Wain (Glossop RFC)
9. Elliot Fisher (Sheffield Tigers)
10. Jamie Maddern (University of Nottingham)
11. Matisse Source (University of Nottingham)
12. Matty Hale (Dronfield RFC)
13. Chris Pond (Sheffield)
14. Max Greatwood (University of Nottingham)
15. Cam Catleugh (Huddersfield RFC)
Finishers Ben Whitney (Sheffield) Lochlan Dudly (Paviors) Harrry Moore (Glossop) Zac Round (Glossop RFC) George Cole (West Bridgeford) Tom Bingland (Derby RFC)
Clubs represented thanks to…
Sheffield
Sheffield Tigers RFC
Glossop RFC
Stamford RFC
West Bridgeford
University of Nottingham
Dronfield RFC
Paviors
Derby
Ilkeston
Long Eaton
Huddersfield RFC